If you want to learn more about us, you are in the right place! Register to gain access to free education, interviews, and the MRI community!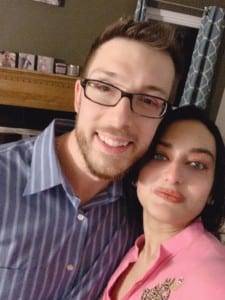 MRI Buzz LLC is a joint business venture co-chaired by Matt Rederer BS RT(R)(MR)(CT) MRSO MRSE (MRSC™) and Lubna Baig (Lexie) BSRT (R) (MR); set up for the sole purpose of, and as an educational tool / one-stop-shop for, medical imaging practitioners and/or students of diagnostic imaging, to avail the option of choosing a myriad of MR/MR Safety resources to self-learn or share their own expertise for the overall education/understanding of all those affiliated with MR/MR Safety/Diagnostic Medicine.
The owners Matt Rederer BS RT(R)(MR)(CT) MRSO MRSE (MRSC™) and Lubna Baig (Lexie) BSRT (R) (MR) are multimodal technologists, SMRT members, MR Safety advocates and authors. Matt also happens to be the President of RITE Advantage LLC – a prominent MRSO/MRSE prep program dedicated to serving those individuals interested in obtaining the relevant and prestigious ABMRS Board-Certified credentials.
In August of 2019, I, Lubna Baig (Lexie), received a proposal from Matt Rederer about establishing a website – MRI Buzz – dedicated to MR Imaging practitioner / MR Imaging student learning – but with the unique option of offering the aforementioned individuals – the opportunity to learn from/ engage with the experts themselves. Our site and affiliated social media pages operate a little differently in that we are a very neutral organization and we encourage live, virtual, one-on-one discussions with all those interested in sharing their expertise.
Between August 2019 – November 2019, MRI Buzz remained in startup mode as we set about building our product and defining business roles. In November 2019; once we were sure about the brand that we were going to be, we announced our venture on our independent social media handles. We mutually agreed to have Matt build the lion's share of the product while I – Lexie – would be the designated social media marketer with an additional role in content -creation/product – building from time to time. Having planned on a 2020 launch; Matt and I, as of December 2019, completed the pending legalities behind the establishment of our website.
MRI Buzz LLC happens to be the thought process of two individuals – who are focused on – educating the masses of and regarding all that is MR/MR Safety/Diagnostic Medicine as well as making the field a better-safer- place for students and patients alike. Our dream is to create a safe space where aficionados of MR/MR Safety/Radiology can share their expertise and/or knowledge to help others.
On that note; we encourage members to share information and/or resources so that all the esteemed individuals affiliated with MR/MR Safety – related organizations or imaging care providers with a responsibility to MRI can safely execute MR imaging exams.
.